Ramen has its origins in China. Chinese long stretchy, chewy noodles were brought to Japan but were not an immediate success as the Japanese did not find pork based broth to their liking. After ramen was fitted to Japanese tastes it became an immediate hit. Ramen gained world wide popularity after the Japanese invention of instant ramen in the late 1950's. This instant ramen is what most of us think of when we hear the words ramen soup. The two are light years apart. Real ramen permeates Japanese culture.
The Four Main Types Of Ramen
- From The Huffington Post
Shio ramen
is the subtlest form with a clear, light-bodied salty chicken broth. Sometimes fish or pork are included.
Shoyu ramen
is soy sauce flavored and made with a chicken and vegetable broth base. Sometimes fish or beef are included.
Tonkotsu ramen
is rich and pork based, almost milky white in color.
Miso ramen
is rich in flavor from miso paste -- it also comes in a spicy version that's topped with spicy bean paste. The broth can be a combination of chicken, fish and/or pork.
The 26 types of ramen in Japan from the ShinYokohama Raumen Museum
Ramen has 3 components. The broth, the noodles, and the toppings. Each is important. The broth and noodle recipes are carefully guarded secrets among the half million or so highly competitive Ramen restaurants found in Japan.
THE BROTH.
Broths are typically pork or chicken based and may take days to produce. Tonkotsu ramen gets its whitish appearance from pork bones which are boiled for many hours until the collagen broken down and released. This collagen can bee seen in the broth but not felt on the tongue. Additional flavorings may be added to these broths while cooking, or just before presentation. Miso, soy sauce, and spicy bean paste is among these.
THE NOODLES
There are 2 basic types of noodles. Straight and crinkly. The type of type of noodle used is dependent upon the broth. Smooth noodles go down easier and are more likely to be found in lighter broths while crinkly noodles do a better job of hanging on to the rich broth in heavier bowls. Ramen chefs will almost invariably produce their own noodle on site. Mixing various flours together for their own spin.
THE TOPPINGS
Everything and anything goes here but ramen chefs will take great pains to pair the correct toppings with the broth and noodle. Meats, eggs, vegetables, shoots, sprouts, spicy bean pastes are all potential candidates but almost certainly green onions. If eggs are used, they must be soft cooked, peeled, marinated overnight and sliced in half lengthwise. Meat is typically pork slices (char siu or chashu) but ground pork is also used as well as beef or chicken.
A ramen primer from serious eats

The miso ramen bowls I made were relatively simple. The broth was a "doctored up" boxed chicken broth with the additions of sesame oil, garlic, shallots, minced fresh ginger, brown miso, oyster sauce, tamari, white pepper, ground toasted sesame seeds, hot chili bean paste and sake. It was extremely flavorful. I had hoped to find fresh ramen noodles at my local Asian market but no dice. I picked up a 5 pound box of Japanese dried medium cut smooth ramen noodles for about $5.00. Not fresh, but certainly not the instant bricks. Toppings were sliced char siu pork tenderloin, bean sprouts, steamed cabbage, carrots, shiitake mushrooms, broccoli, soft cooked eggs, and sliced green onions. Delicious!
Japanese Miso Ramen With Pork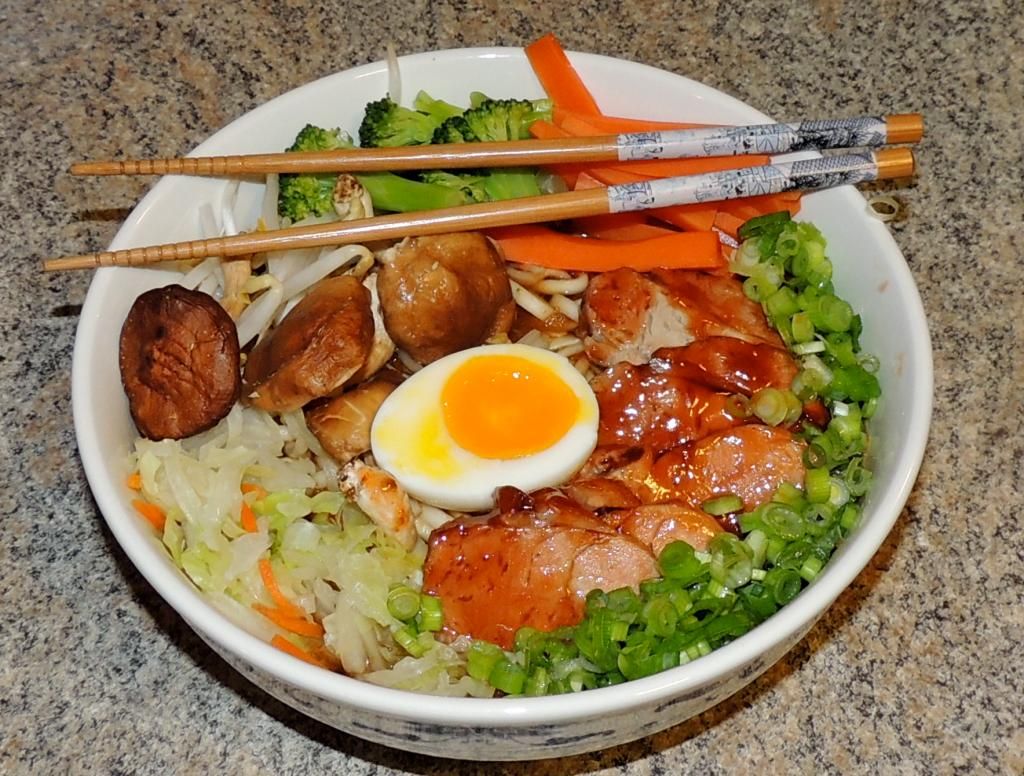 Without Pork