Msir
Moroccan Salted, Dried Lemons
From Time/Life's Foods of the World - a Quintet of Cuisines, 1970:
To make 4 preserved lemons:

4 lemons
2 teaspoons salt

With a small, sharp knife, slice each of the lemons lengthwise into quarters, cutting to within about 1/2-inch of the bottom so that the segments are not completely separated. Sprinkle the cut surfaces evenly with the salt and reassemble the lemons, pressing them gently into their original shape. Place the lemons in a canning jar large enough to hold them compactly, cover tightly with the lid, and marinate at room temperature for at least 2 weeks. Discard the juice that has accumulated in the jar and completely separate the lemons into quarters. The salted lemons are used in tajine such as tajine msir zitum and el lahm el m'qali.
ok, here we go ~ this one is so easy, it really doesn't need much elaboration.
note: these moroccan dried lemons are different than preserved or pickled lemons, which are kept in a liquid for the duration of the process and storage. for an outstanding pictorial on those,
click here
. also, keep in mind that this is at least a two-week process, so plan your menu accordingly, if you want to use these for a specific dish or occasion.
for this pictorial, i used 4 good-sized lemons, which were just the right amount for a single quart-sized canning jar:
i'd recommend a wide-mouthed canning jar, to make it easy when inserting (and also retrieving) the lemons).
the first step was to cut off the ends - easy enough:
next, i decided to go ahead and start out by cutting the lemons as described in the recipe: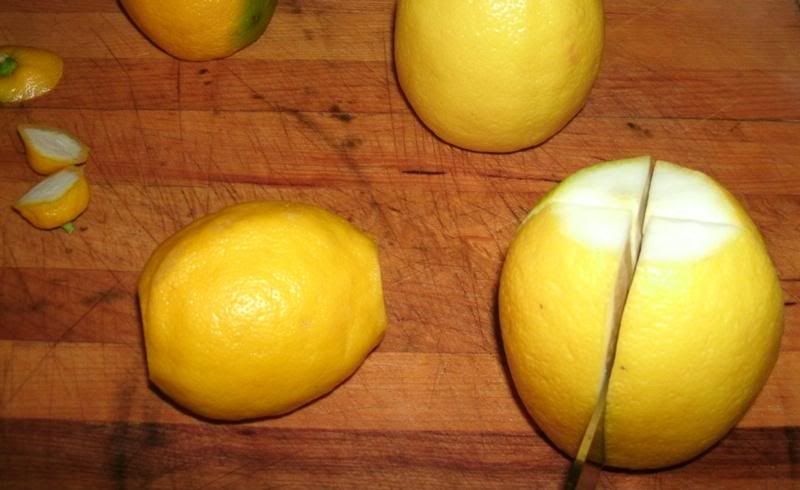 i was careful not to cut all the way through, just enough so that the wedges are connected at the bottom and can be opened up like a flower. this is a traditional way to do it, and makes good enough sense, so i did it that way; however a person could probably just as easily cut them all the way through into wedges, as well.
next, i opened up the "petals" and carefully applied the salt to the flowered lemons:
for this project, i used sea salt, since that is what most likely would have been used historically; having said that, any non-iodized salt would be fine.
as you can see, there was a bit of a learning curve; but with my youngest son helping, we eventually got pretty good at it: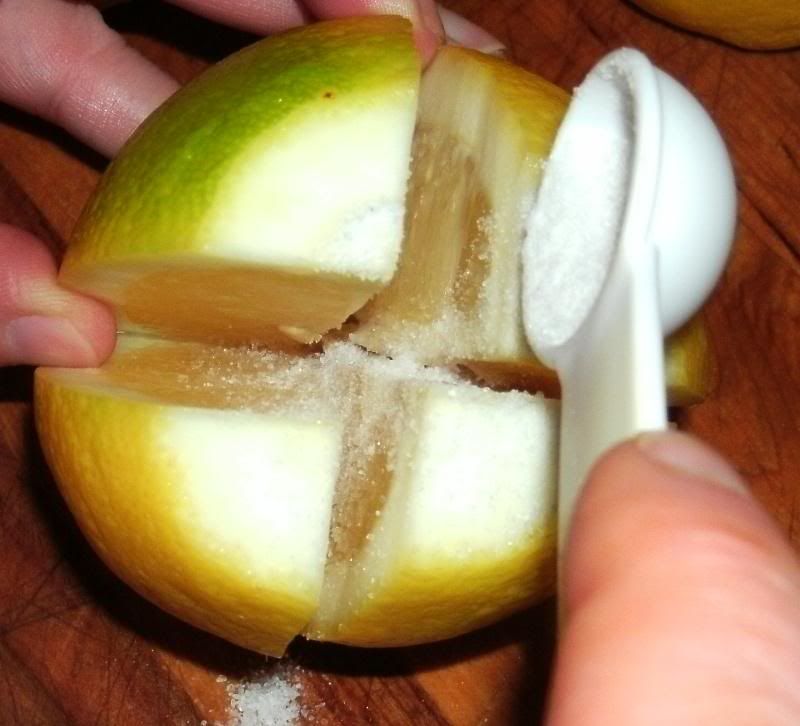 NOTE - we used a little more salt that the recipe called for - probably 1 teaspoon per lemon; this may or may not have been necessary, but i figured it probably wouldn't hurt, since the majority of the salt will be removed along with the juice, as per the instructions.
as soon as the salt is applied, it starts pulling the juice out of the lemons, so we closed up the "lemon flowers" and proceeded to the next step. some of the lemons were pretty big, so it was a chore to get them into the jar: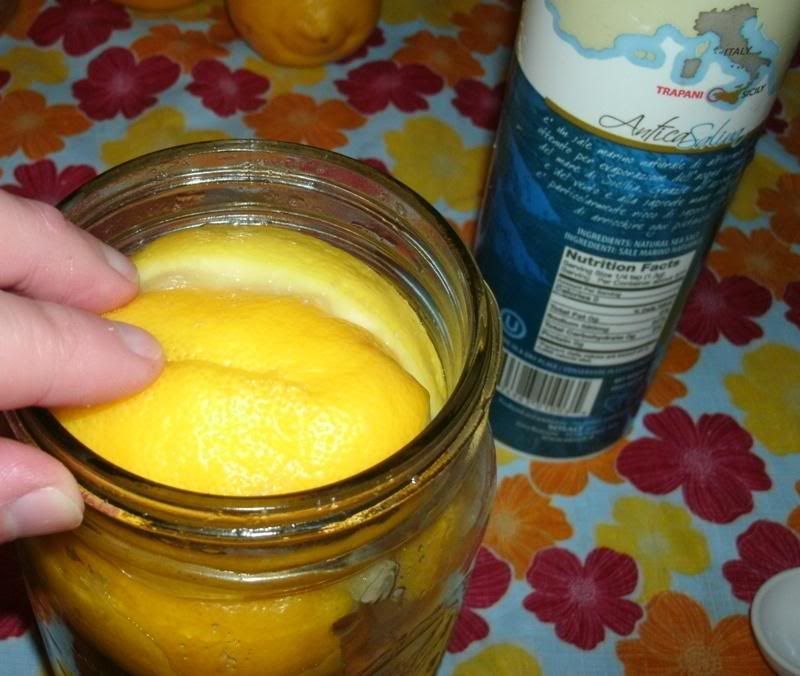 we also gathered up any spilled salt to add to the jar, to make sure there was enough to do the job.
because of the shape and size of the lemons, we actually ended up cutting one "lemon flower" all the way through, inserting the wedges into the odd spaces here and there throughout the jar - no worries. as you can see, the juice started to flow immediately:
in the quintet of cuisines book, the recipe did not call for any added liquid, so i followed that method. by this process, the lemons will dry themselves out, to a certain point, over the passage of time. the recipe specifies discarding any juices after two weeks, and i am assuming also as it accumulates during subsequent storage.
one thing i would recommend (which i neglected to do here) is to put a piece of saran wrap between the lid of the jar and the jar, as the salt and lemon juice does corrode metal lids somewhat.
we then put the lemons up at room temperature, where they will remain for two weeks:
i've been inverting the jar each day, so that the juice and salt rotate throughout the entire jar. i've also been cracking open the jar lid periodically to allow the escape of any gasses and prevent them from bulging the lid too much. it's been a little over a week, and the juice is almost halfway up the jar.
Two weeks is a good minimum time for allowing your msir to formulate, but they will keep for a very, very long time - refrigerated or not, due to the high acid and salt content - until you are ready to prepare a dish such as
tajine msir zitum
and
el lahm el m'qali
. Here they are, ready to use, on the left:
A dish such as tajine can be made without them, but I will say that these are, in my opinion, essential if one really wants to experience it, and there is no reason to go without them, especially since they are so easy to make.
Anyway, here is how to prepare the msir so that they will be ready to be used. Take as many lemons or lemon quarters as the recipe requires; if they are not already separated, go ahead and do so. Next, run a good, sharp, thin-bladed knife such as a fillet knife between the pulp and the peel, thusly: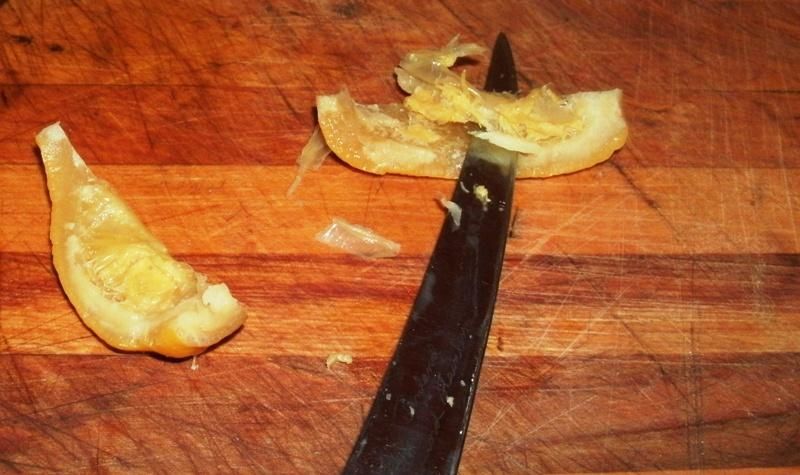 This will leave you with a segment that is composed primarily of peel: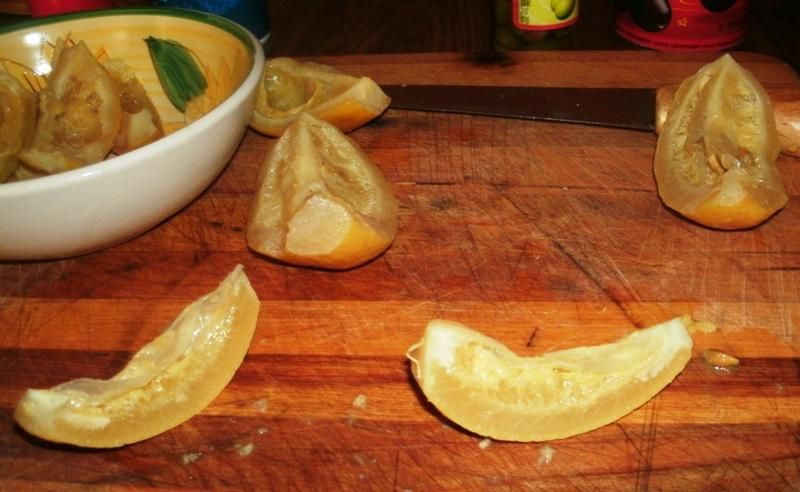 Then, simply dice the segments into small pieces:
Leaving you with this: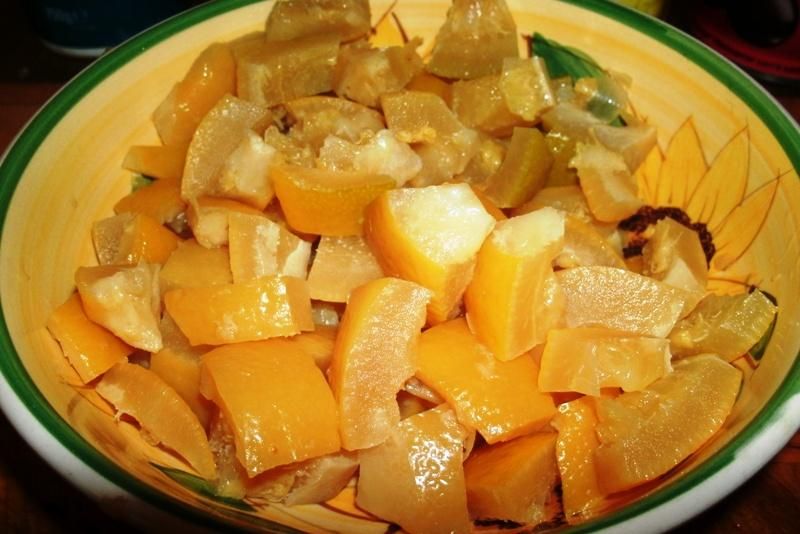 This dicing step is not mentioned in all recipes; however, for me, it makes intuitive sense to do so. One can leave the quarters whole, or cut them up for even distribution, as preference or whim dictates.
I tried one of the pieces and was amazed at the truly unique flavour that it had. It was had a fresh, acidic, intensely-lemony taste, with a slightly salty accent and just a suggestion of bitterness from the peel to balance everything out. Impressive, to be sure; as I said above, it really transports you to the Maghreb, and even though you can use fresh, "unpreserved" lemons, I strongly believe that your tajine experience is somewhat incomplete with msir.