This week I made focaccia based on Rivet's post. I made the biga first, as he did.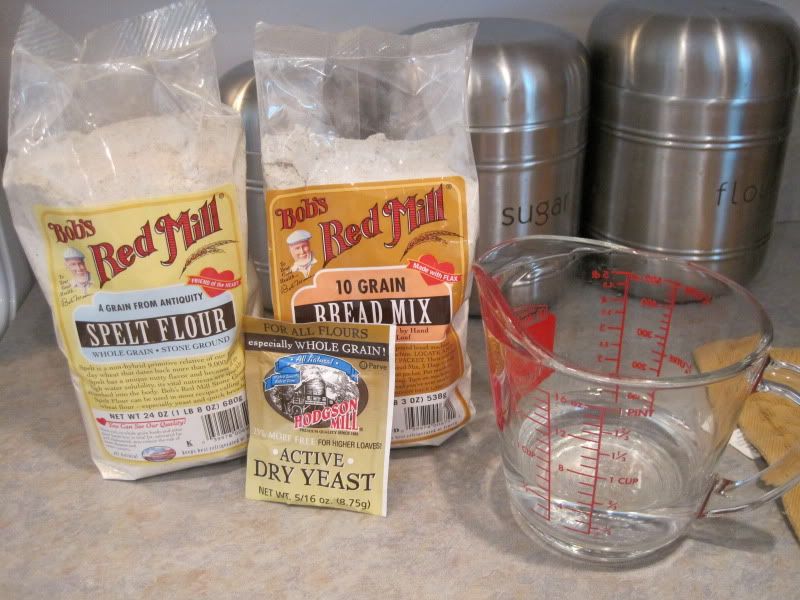 I'd never used spelt flour before, so I was interested to try it. I already had access to a bunch whole wheat flour, so I decided to use this too. Here's the biga being stirred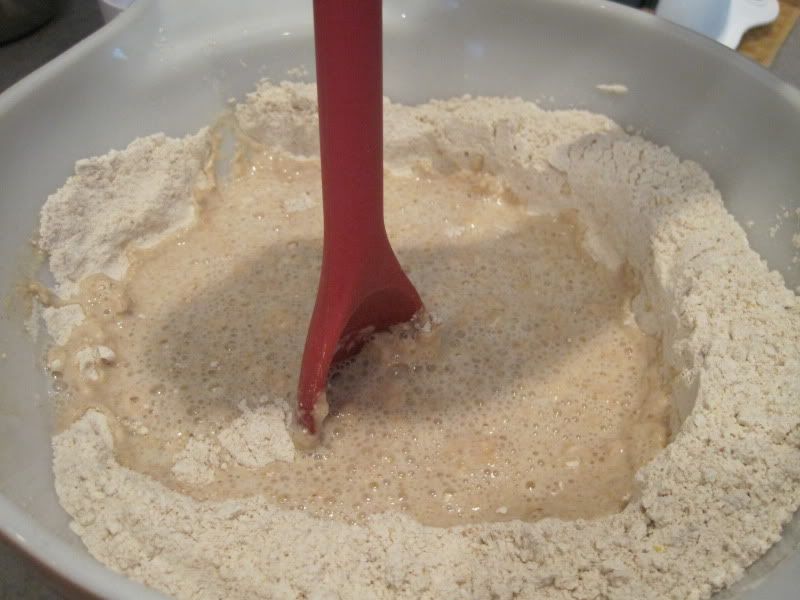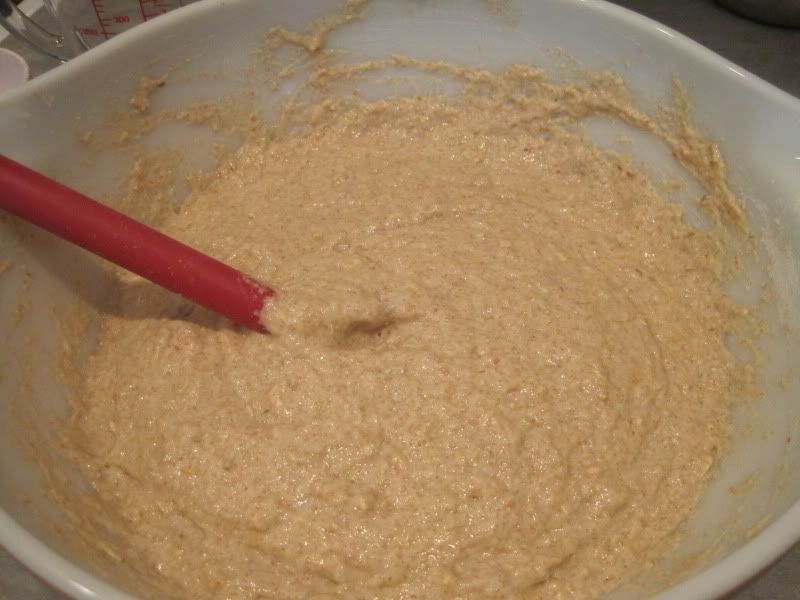 The biga sat overnight and got kind of crusty on the top, but it was still moist. Underneath that layer it was fine. I prepared another batch of yeast and flour and added the biga to it. In the pic the darker blob is the biga's top layer...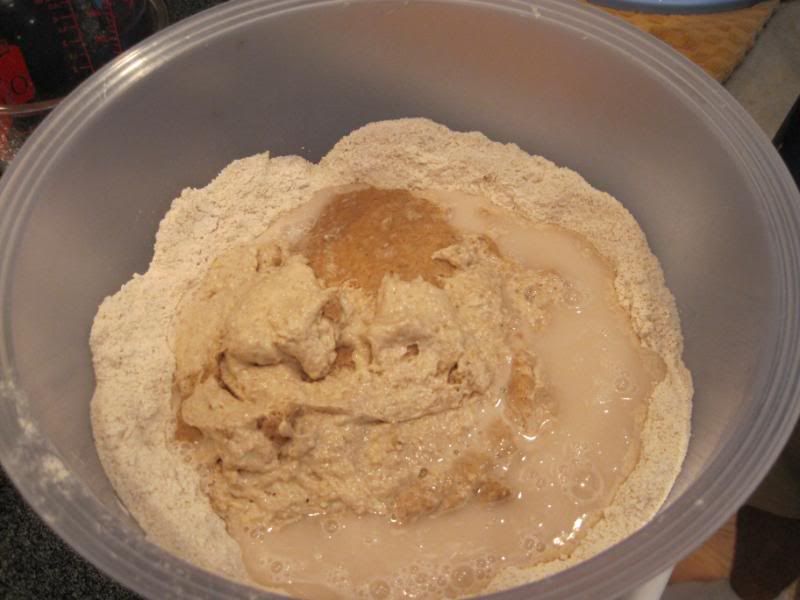 I also mixed in some oregano. Then it was kneaded until it became a smooth dough
This was a bit more difficult than I remember. The whole wheat probably made it tougher. This seemed to affect the dough throughout the whole cooking process. I then coated a bowl with olive oil and put the dough in and turned it around in there. It went into the oven to rise and rise it did! The whole wheat didn't seem to stop it very much, but I wonder if it would have grown more if I'd used white flour.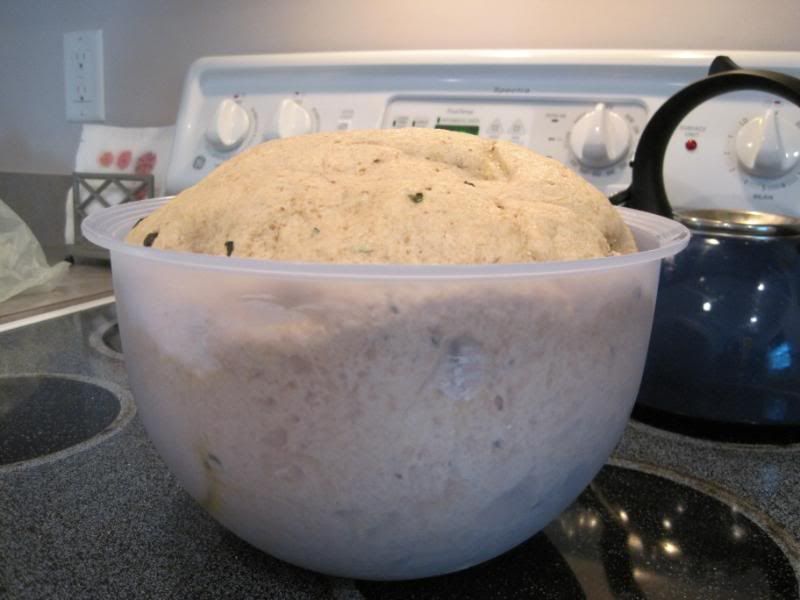 I rolled it out with my new rolling pin...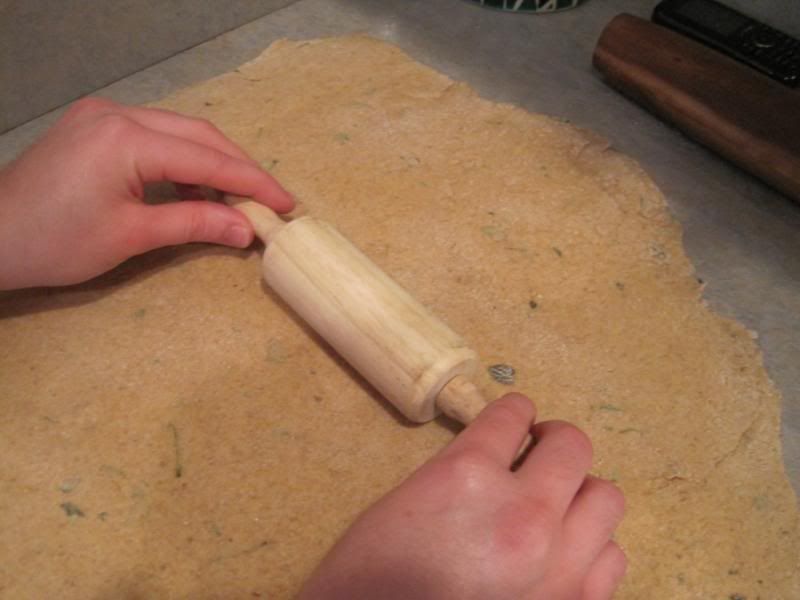 jk
This is my new rolling pin...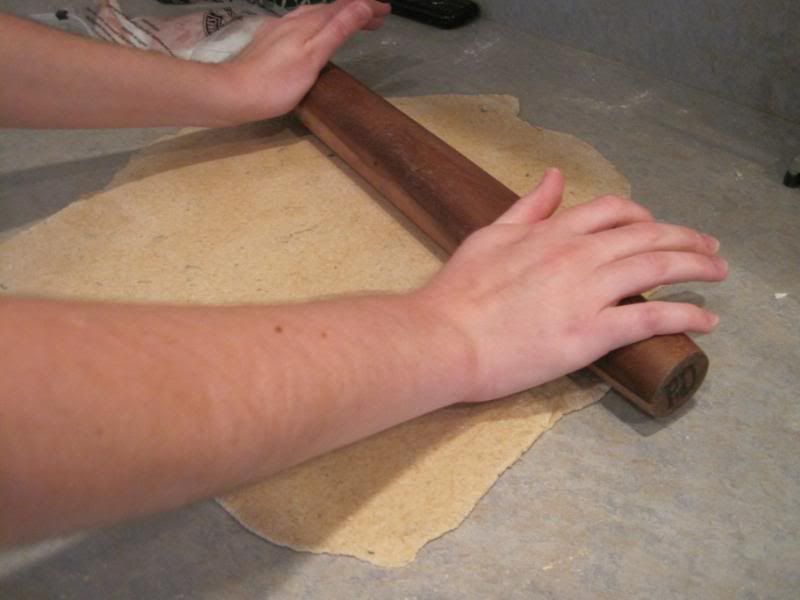 It took some getting used to working with no handles, but this is definitely a better design. It was much easier to get the dough uniformly flat. I rolled it out very thin and placed it on a baking sheet on top of olive oil and cornmeal. I don't have any baking stones over here, so I had to make due. The focaccia toppings were mushrooms, red and white onions, garlic, tomato, black olives, and prosciutto. The cheeses of choice were, from left to right in the pic, gorgonzola, swiss, and mozzarella.
I spread them around on the bottom layer of the dough along with a few cloves of garlic here and there.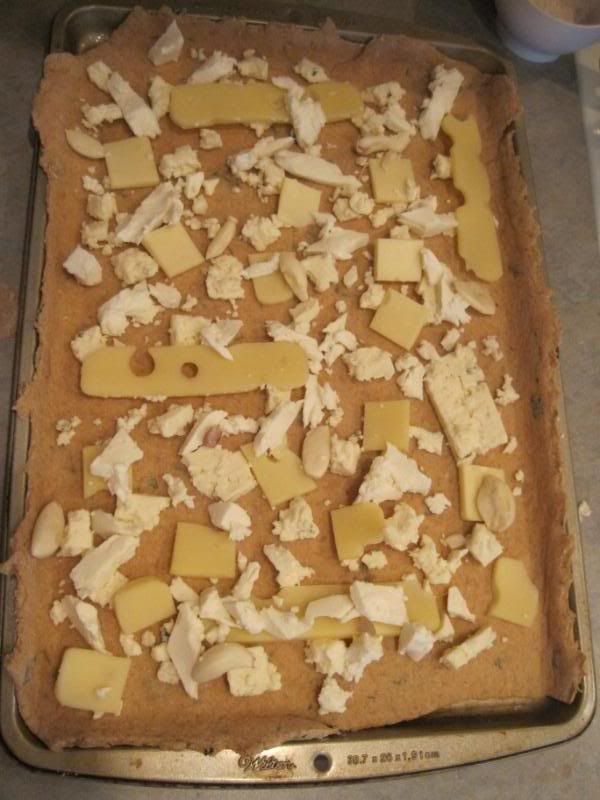 Next I rolled out the top layer. I had taken my sweet old time with the cheese, so by the time I got to the rest of my dough, it was a little tougher than before. I guess it dries out a bit in the cool air. Never the less, it was workable, so I added the top to my focaccia and poked air holes in it.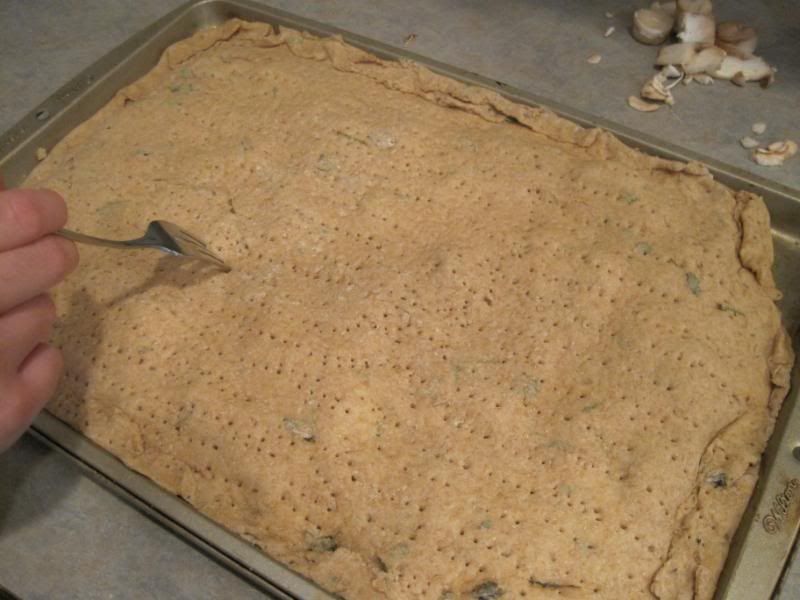 With all the excess dough we made something more like a focaccia pizza. Ok... it was basically a white pizza. The base was olive oil, parmesan, and garlic.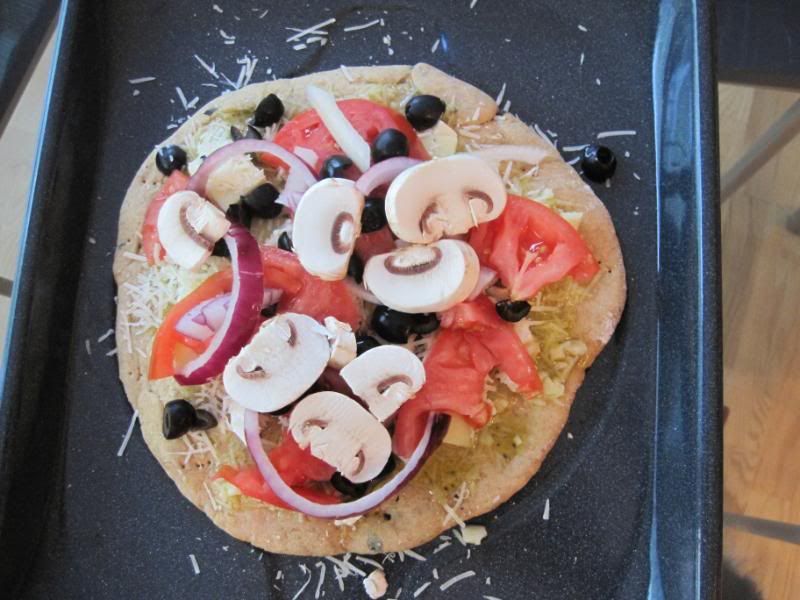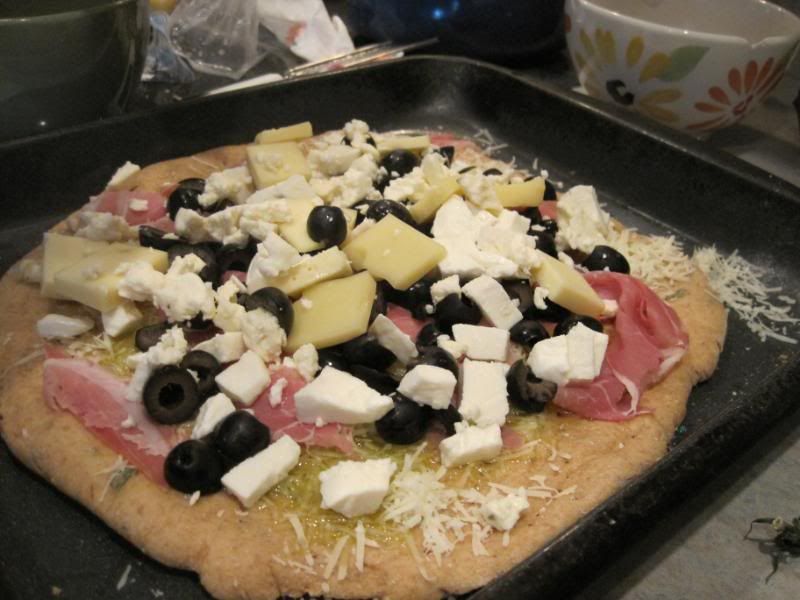 There was still leftover dough and ingredients, so we made a small "tester". They all went into the oven at 350.
I had no idea how long they'd take, so we just monitored them through the bake. After about 25 minutes we took the tester out and snacked on it.
It was perfect! The others came out soon afterwards.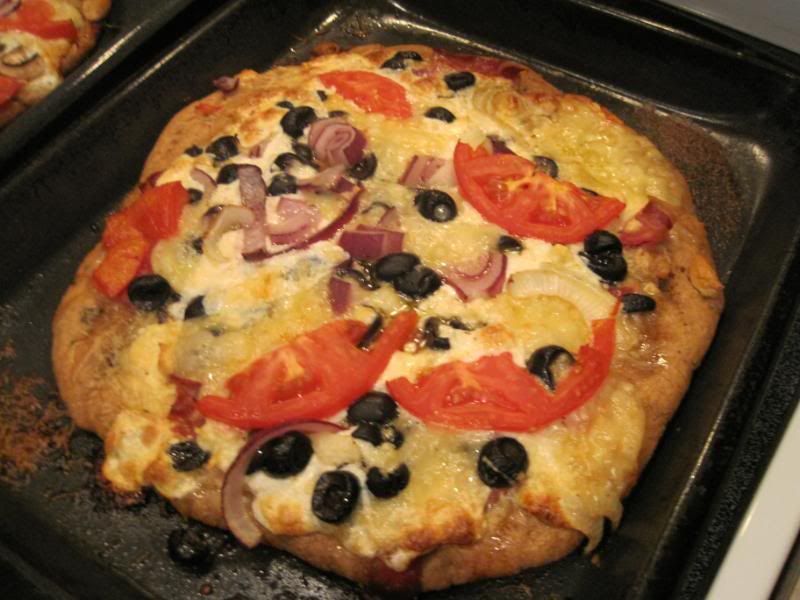 One of the pizzas was burned black on the bottom because we forgot to oil the bottom, but the rest of it was fine. The dough had risen pretty well during the bake for one that was so whole wheaty. This also gave it a distinct texture and taste, which was pleasantly different from a normal delivery pizza. The actual focaccia had a very nice melted cheese layer inside. The different flavors blended well, but they all muddled together because there were so many. I couldn't distinguish the oregano in the crust from everything else, and I couldn't really tell what the crust tasted like either. I'd tasted the biga when I made it and I got a cheesy flavor from it that I must have mistaken for the nuttiness it's supposed to have. I don't know if this flavor was still present in the dough, but still, it was yummy! I'd definitely like to make this again, except maybe with fewer toppings.